Building solid wood doors since 1947
About Us
Our history is our backbone. For over seventy years, we've been creating custom solid-wood interior and exterior doors. At Madawaska Door & Trim, we consistently craft each door to perfection, using old world craftsmanship combined with new world techniques.
Our History
The company has it's origins back in 1947 when the Hildebrandt family set up their own small home based business in a workshop adjacent to their homestead in Barry's Bay. In 1963 the business expanded into our current location, becoming Madawaska Doors in 1973.
Over the years the business changed its size, vision, name and owners. But the same basic methods of fine woodworking are still in use today in our 30,000 sq. ft. + manufacturing facility.
A new owner acquired the assets of the business in April 2019 and is continuing the legacy of Madawaska Door & Trim. Inspired by the history of the company and its award winning custom doors, the new ownership has brought new investment and a new sense of momentum.
Maintaining this heritage and the high quality craftsmanship dating back to Hildebrandt Sash and Door, the company continues to operate in the small Eastern Ontario town of Barry's Bay, close to the heart of Ontario's forest industry.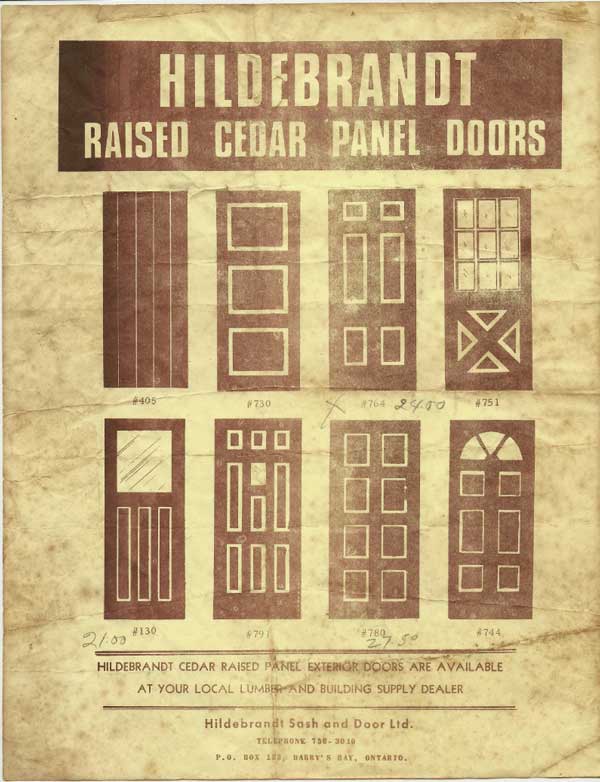 Poster from early days of the Hildebrandt Sash and Doors. Many of the same models of doors are still offered today.
Our team hand picks the wood for each door to meet top of the line quality standards, matching the natural wood grain and cutting to our customer's custom specifications. We use only solid wood throughout, with no veneers or fillers.
We heat 92% our building using compressed sawdust briquettes and off cuts.
Sustainable Productivity
We pride ourselves on being the most environmentally responsible door available. Waste wood is burned to provide heat for our plant, and our sawdust compressed into briquettes for home heating and to provide heat for our plant. Our glues use no harmful chemicals. Any non-wood products used have been made from recycled materials, and are themselves recyclable.
Madawaska Door & Trim uses only biodegradable or recyclable constituents – no exceptions. Our Environment Statement is simple: We love our planet and we prove it by our decisions and actions every day!
Wood is "Renewable, Reusable, Recyclable and Biodegradable"
Ready to Work With Us?
We'd love to start a conversation with you. Whether you've got questions, ideas, or ready to start building, fill out your name, email and message. We'll respond to you as soon as possible.
Deep Roots
Our shop in Barry's Bay Ontario has been crafting custom doors with artistry and technique since 1947.
Tailor-Made
From the wood species to your specific measurements, we craft doors that fit your requirements.
Hands-On Process
Communication is key. We stay in contact with our clients every step of the way. Whether through email or phone, our door is always open.